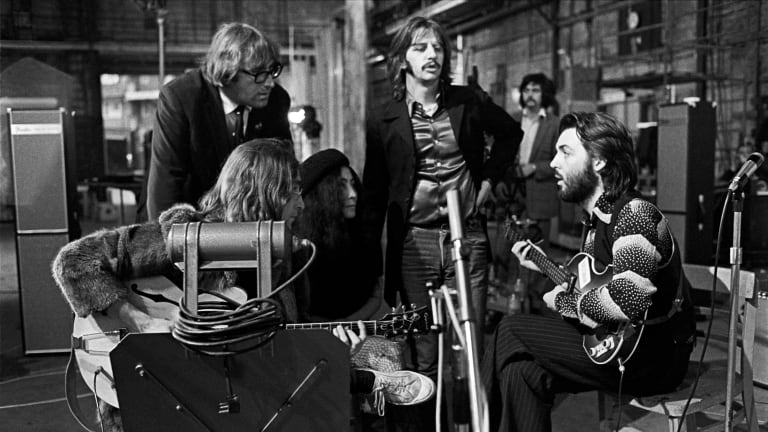 Get Back: A Month in the Life
John "Jay Jay" French looks back to the last month around the release of the Peter Jackson film "The Beatles Get Back," where, as a huge Beatles fan, he would experience the anticipation and hysteria first hand.
By John "Jay Jay" French
It was inevitable. The minute after the first episode of the documentary The Beatles: Get Back finished, my phone blew up.
All my friends wanted my opinion.
What did you think? Wasn't it amazing?! Yoko was this, Yoko was that. George was upset. George and John had issues. Peter Sellers was weird. Paul was too bossy. Wasn't Ringo amazing?
I just had to stop taking calls.
I had two more parts to go (about seven more hours of film to watch) and I wanted to slowly savor it all…slowly. After all, this was really the first time that we, the fans, were actually going to get a chance to see "how the sausage was made."
I started to take notes on who was there on camera on a day-to-day basis. Who were the constants as far as engineers, roadies and record/publishing executives, as well as the family members and the 'hangers-on,' assuming that there were going to be any.
It is almost a given that if you dedicate eight hours of your time to watching a Beatles documentary you are not just a casual fan.
The events chronicled in this (new Peter Jackson-edited) Beatles documentary have been written about and reported to us Beatles fans for over 50 years.
It has been said that The Beatles have had more books written about them than any other historical figures except Jesus Christ. I can't speak authoritatively about that comparison, but I have read dozens of Beatles-related books, which take up several shelves in my bookcase.
The three episodes peeled out dramatically (it had to provide the drama leading up to the rooftop concert).
As much as I already knew about this time in Beatles history nothing could have prepared me for this experience, as it finally connected the dots from the end of 1967, going into "The White Album" without a real manager and then the band taking part in what would be their fifth (and last) movie after A Hard Day's Night, Help!, Magical Mystery Tour and Yellow Submarine.
Once this context is laid out, the formula (and associated drama) really does make more sense.
This is very important, because the album Let it Be and the original movie that was connected to it, was sold to us Beatle fans as the band's swan song. It turns out that this storyline was completely false and is responsible for me really not liking the Let it Be album. In fact, several years ago I created a non-scientific poll on Facebook asking fans which Beatles albums were the most and least played in their collections. While the most played was either "The White Album," Sgt. Pepper or Revolver, the least played almost universally was Let it Be.
I blame the powers at be for this.
If Let It Be was released in the actual timeline (between "The White Album" and Abbey Road, the response would have been, IMHO, totally different.
What this new edited documentary does is finally blow many Beatle myths to smithereens.
Myth 1 : Yoko broke up The Beatles
If one decided to start watching the new doc with the sound off, one could surmise that, yes, indeed, Yoko must have broken up the band. Why? Because she is in almost every frame! If you really believed that she was responsible then, just by the mere time of her screen presence, you could reasonably assume that she must have interjected herself in all of their business.
It does seem a bit disconcerting, actually, at first, and It may take a while to get used to having Yoko in every scene. But once you watch how Yoko sits next to John for the entire month of planning this project, you come to realize that John, at this point in his life, was totally dependent on the stability that Yoko gave him. She hardly utters a word. There is a scene in which, during a 'jam session,' she does howl some vocals, but that really didn't bother me by the time she did it.
Without her, I don't think John could have made it through the gruelling timetable. He was, at times, stoned or checked out emotionally. I get it, and I understand it, because as a band member of Twisted Sister — a band with a decades long history — this is what sometimes happens during rehearsals. What the movie really shows is the reality of the boredom of creation.
Furthermore, my wife was impressed that Yoko could last that long (hour after hour, day after day). My wife knows how boring all this stuff is. I know how boring all this stuff is. 
Kudos to Yoko!
Myth 2: Let It Be (the album and movie) signaled the end of the band.
As most of us already know, the recording of "The White Album" exposed the first real cracks in The Beatles' armor. Ringo quit and walked out and then long-time engineer Geoff Emerick walked out.
It's amazing that the band even took on this project, because the pressure of being The Beatles was getting too much to deal with. You almost get the feeling that, while they all wanted to go their separate ways, they are all afraid of what lay ahead.
Chronologically, it is absolutely not the end. In fact, now that the correct timeline is shown, we now know (although many Beatle fans eventually came to know this fact) that the Let It Be/Get Back project was recorded before Abbey Road. What the new doc finally shows us however, is that Let It Be was really no different than A Hard Day's Night, Help! or Magical Mystery Tour. All of these movie projects had deadlines in which songs had to be created to go along with a movie project. Now we know that there was no reason to feel bad about the music from the album. The songs were very good and the process of writing them led to many of the songs on Abbey Road.
Myth 3: Ringo was a lucky guy to join when he did. He is just an average drummer
I will go on record to say that The Beatles were the lucky ones getting Ringo. They have all said in separate interviews that Ringo was the most professional member when he joined. There is no better proof of his greatness than watching him in this doc. He is flat out amazing. In fact, as each song is slowly developing in front of our eyes, it isn't a Beatles song until Ringo plays the drum parts. They are always the perfect piece. Every time. They become Beatles songs once Ringo comes in. I have always felt this way, ever since they opened The Ed Sullivan Show with the song "All My Loving." The song swings because Ringo swings. He is an absolute killer of a drummer and I appreciate him more today after watching the doc.
Myth 4: Phil Spector produced the album
Phil Spector is nowhere to be seen. In the music business, the title of producer has always been rather nebulous anyway.
It can mean that the person who is the 'producer' can be completely involved in picking songs, arranging them, sitting at the console and turning all the knobs and switches to get the best sound, etc. Or the person could just be a vibe guy who keeps everyone in the room happy. I've seen it all. Except, in this case, it seems that Spector was asked to 'fix' a record that John hated.
What did that mean exactly? Good question, as I watched Glyn Johns and George Martin actually produce the album, which, by all accounts, sounds exactly like the finished product except for the added strings. Remember, as you watch the movie, most of the songs for Get Back/Let It Be were really recorded live!
How Phil Spector ever convinced John to give him full production credit (for adding strings to a couple of songs) is truly laughable. This was a Glyn Johns production with executive producer advice from George Martin.
It only goes to show (in my opinion) how John gets manipulated by strong con men (Phil Spector, Magic Alex and Allen Klein).
Myth 5 : The rooftop performance was insufferable to the band
WTF? They looked so damn happy playing live together for the first time since the final show in San Francisco in August 1966! I could almost cry! I'll even go so far to say that this pure joy they experienced was the catalyst for the Abbey Road sessions that followed almost immediately.
How Michael Lindsay-Hogg, who was 29 (the same age as the band members when he filmed and directed all this footage), missed the joy with his original edit absolutely stuns me.
Billy Preston becomes the real hero of this project. He came along at the right time. He provided a release valve, incredible musicianship and a vibe that kept the project on track all the way through to the roof concert
And the incredible quality of the film makes it hard to believe that this was made 53 years ago. Over that time, the following band members, family members and band associates featured in this documentary are no longer with us to see how this incredibly historic moment in time has finally gotten its due:
John Lennon
George Harrison
George Martin
Billy Preston
Linda McCartney
Maureen Starkey
Geoff Emerick
Mal Evans
Neil Aspinall
Peter Sellers
Alex Mardas (Magic Alex)
Allen Klein
There is so much more! I urge you, if you are a fan, to watch this doc and get the Super Deluxe Edition Let It Be box set (shown above) as it has lots of musical extras, including the full Glyn Johns mix (original title was Get Back), which was originally rejected by all four members and then accepted months later. Even John approved!
---
Jay Jay French is the founding member, guitarist and manager of Twisted Sister. French is also a motivational speaker and writes a business column for Inc. com. His memoir Twisted Business: Lessons From My Life In Rock 'N' Roll is available in the Goldmine store.