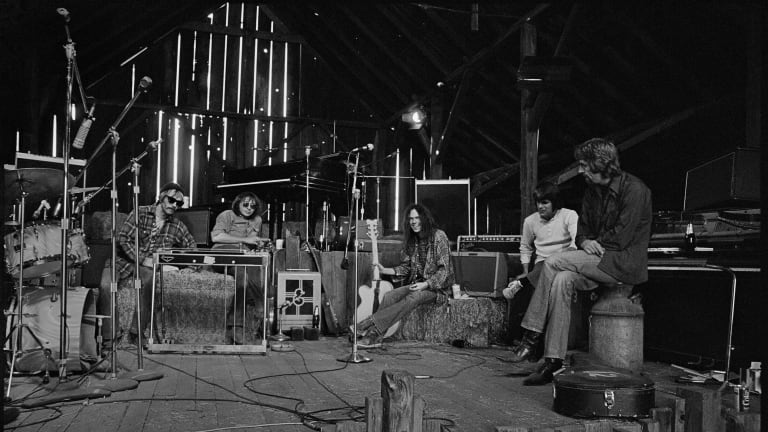 'Harvest Time' a peek into Neil Young's home turf
Filmed at his Northern California farm, Young directed 'Harvest Time' under his oft-used pseudonym Bernard Shakey, and it follows his creative progress between January and September 1971.
The Goldmine store is a music collector's one-stop shopping of vinyl, CDs, box sets, collectibles and Goldmine-only exclusives. Click HERE to visit! 
NEIL YOUNG
HARVEST TIME
Reprise/Shakey Pictures/Trafalgar Releasing (film/DVD)
Three stars
By Lee Zimmerman
Neil Young may be the most prolific artist alive today. Given his wealth of releases — both new and those spawned from his archives — he's managed to keep his music front and center for the better part of the past several years.

Nevertheless, the half century anniversary of the release of the Harvest album, Young's best-selling album to that point and the album that contained his first major hit, "Heart of Gold," gives real cause for celebration. A new box set, containing two discs of Harvest outtakes offers insight into the origins of that album, but it's the stand-alone documentary, Harvest Time, now screening in selected movie theaters nationwide, that's most fascinating overall. With the album's contributors — Young, the late Jack Nitzsche, Ben Keith, Tim Drummond, Kenny Buttrey, and John Harris — taking part, the film gives the viewer an intimate look at the making of the album courtesy of never-before-seen performance and rehearsal footage. The scenes vary from Young's home turf, his Northern California farm, to sessions in Nashville, New York, and London.

There are cameos from other people who played a part in Young's life at the time, among them, his romantic partner Carrie Snodgrass, his superstar compatriots Crosby, Stills and Nash, manager Elliott Roberts, ever-present pal and photographer Joel Bernstein, and roadie Bruce Berry, whose death from a drug overdose would later inspire the darkness and despair of Young subsequent song "Tonight's the Night."
The film, directed by Young under his oft-used pseudonym Bernard Shakey, follows the musicians' progress between January and September 1971 and includes a detailed narrative and the music that was recorded for the album during that prime prolific time, "Heart of Gold," "A Man Needs a Maid," "Alabama," "Are You Ready for the Country," "Out on the Weekend, and, of course, the aforementioned "Heart of Gold," among them. That said, the film also includes a handful of tracks that failed to make the cut.
At 130 minutes in length, the film does meander at times, but with the recent Beatles documentary Get Backencompassing more than eight hours, Harvest Time seems like a short film by comparison. So too, it often comes across like a period piece, especially given the grainy footage, the idyllic environs of Young's beloved ranch, the dated fashions, the sound of Rod Stewart's then-current hit "Maggie May" spinning in the background, and the ongoing indulgence in pot smoking, beer drinking and carefree conversing that was part of the hippie ethos at the time.

Scheduled for special showings on Thursday, December 1 and Sunday, December 4, the theatrical version will also include personal introduction from Young himself. "This is a big album for me, Young's quoted as saying. "Fifty years ago, I was 24, maybe 23 and this album made a big difference in my life. I played with some great friends and it's really cool that this album has lasted so long. I had a great time, and now when I listen to it, I think I was really just lucky to be there. I hope you enjoy this story, which is 'Harvest Time,' and which talks about everything that happened."

"We're just makin' a film about … I don't know, just the things we wanna film," Young remarks at one point. "There's really not a big plan about it or anything … I'm making it like I make an album, sort of."

His interviewer asks if his intention is to someday have the film shown in theaters. "I hope so," Young replies.
Fifty years later, that hope has finally come to fruition.
Information on tickets, a list of theaters and screening times can be found at NeilYoungHarvestTime.com