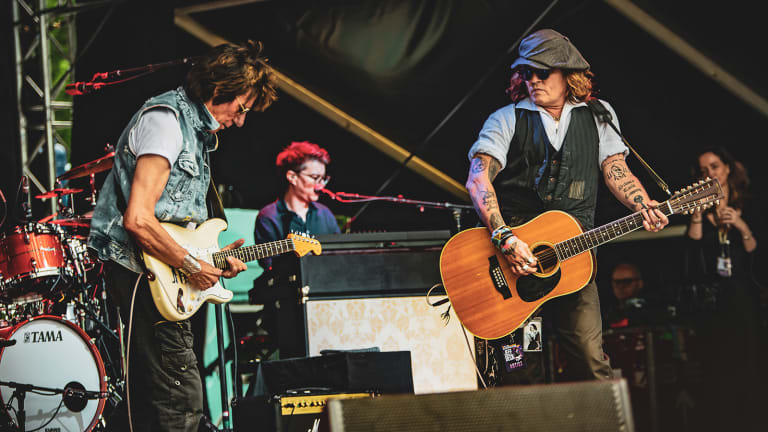 Johnny Depp helps Jeff Beck rediscover "youthful spirit" on new album '18'
What do you get when you put one of the world's greatest guitarists together with Johnny Depp? A hit album.
Shop for Jeff Beck vinyl and more at Goldmine's store.
I've never reviewed an album by Jeff Beck before, but that's not to say I haven't listened to every single piece of work he's ever put out. Without a doubt, Beck is one of the most accomplished guitarists that have ever lived. But thinking about reviewing one of his album had me in a quandary. How does one review something of his and not gush over it? The fact is that for me, writing anything about Jeff Beck is like writing about religion. Jeff is sacred! I started listening to 18 over and over and over. I then realized that Johnny Depp adds something where I thought it wasn't possible to add anything. The press release says that when Johnny and Jeff started collaborating, it made them feel like they were 18 years old again, hence the title, and that youthful enthusiasm is reflected on this album.
I have heard Depp play guitar with Jeff Beck prior to the album. I caught them together at Eric Clapton's Crossroads Festival in 2019. I am aware he is a real musician, not just some "Joe Hollywood" trying to be cool by hanging out with Keith Richards, Alice Cooper or Joe Perry. The man can play and sing — and yes, he adds something to 18 that I haven't heard in a while, but have longed for in quite some time, a growling male voice and a nice crunchy guitar sound to offset the ethereal soaring and swooping of Jeff Beck's virtuosity. If you think of Johnny Depp as just an actor, you're wrong. Simply put, he brings his A game to this record and does improve on Jeff Beck's perfection! Now, I've started going back, watching and listening to Johnny's guitar work and I'm impressed. I know he once made a choice between acting and music, but thankfully he's now able to do both. It's great to see someone of a relatively younger age help to keep rock music going. I don't doubt that one day I'll be seeing him live with his own band at a major venue.
They got together to write and record 18 back in 2019, so the lyrical meaning of the track "Sad Motherf*****' Parade" (a Depp original) may not mean what immediately comes to mind. When Depp was writing "This Is a Song For Miss Hedy Lamarr," he had asked Beck to perform on the track, and Beck was so impressed with Depp's abilities, he asked him to record an album with him. 
I'm actually very impressed with Depp's musicianship, not just anybody gets to record with Jeff Beck. When they first met in 2016, they formed a bond based on their mutual love for cars and music. Jeff stated, "When Johnny and I started playing together, it really ignited our youthful spirit and creativity. We would joke about how we felt 18 again, so that just became the album title, too." 
Now, not that Jeff Beck can't voice a song with his guitar, quite the contrary. When he did "A Day In the Life" at Ronnie Scott's Jazz Club I could hear and feel John Lennon's voice. Beck has always had a unique ability to bring voices to an instrumental like nobody else. This album is no exception. When he does The Beach Boys' "Caroline No," The Miracles' "Ooo Baby Baby" and Marvin Gaye's "What's Going On," you can hear those voices conducted through his fingertips. There are some sublime vocals in these songs. They aren't completely instrumental, but when Jeff Beck plays a song, you've already got one vocal going on. 
The track "Isolation" was actually Depp and Beck's first collaboration, released in 2020. If you're a fan of Jeff Beck, Johnny Depp, or just good old-fashioned rock music, then you want to grab a copy.
The track listing for 18 is:
"Midnight Walker" (Davy Spillane cover)
"Death And Resurrection Show" (Killing Joke cover)
"Time" (Dennis Wilson cover)
"Sad Motherf*****' Parade" (Johnny Depp original)
"Don't Talk (Put Your Head On My Shoulder)" (Beach Boys cover)
"This Is a Song For Miss Hedy Lamarr" (Johnny Depp original)
"Caroline, No" (Beach Boys cover)
"Ooo Baby Baby" (The Miracles cover)
"What's Going On" (Marvin Gaye cover)
"Venus In Furs" (The Velvet Underground cover)
"Let It Be Me" (The Everly Brothers cover)
"Stars" (Janis Ian cover)
"Isolation" (John Lennon cover, available only on the digital and CD versions)
The two are currently touring in Europe and I hope that they bring this tour to the USA. This would be perfect, as always, at The Hollywood Bowl because Jeff Beck always sounds sublime at that venue, or pretty much anywhere he plays. The album debuts in just a couple of days, July 15. You can preview the single "This Is a Song For Miss Hedy Lamarr." 
Related links:
Jeff Beck
http://jeffbeck.com
https://www.facebook.com/jeffbeck
https://twitter.com/jeffbeckmusic
https://www.instagram.com/jeffbeckofficial
Johnny Depp
https://www.facebook.com/JohnnyDepp/
https://www.instagram.com/JohnnyDepp/
They are roughly half-way through the current tour, but if you're in Europe or wish to fly there, you can still catch them at:
July 14 Saint-Julien-en-Genevois Guitare en Scene 2022
July 15 Montreux Montreux Music & Convention Center
July 17 Perugia Arena Santa Giuliana
July 18 Gardone Riviera Il Vittoriale Degli Italiani
July 20 Pordenone Parco San Valentino
July 21 Cattolica Arena della Regina
July 23 Vitrolles Jardin Sonore Festival
July 24 Marciac Jazz in Marciac
July 25 Paris L'Olympia