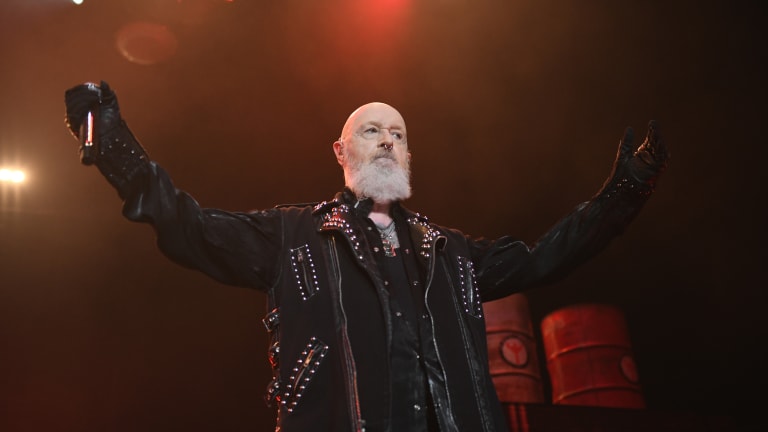 Judas Priest and Queensryche team up to metallize New Jersey once more
A photo essay of Judas Priest and Queensryche, as both bands performed on March 30. 2022, at the Prudential Center in Newark, New Jersey.
Photos and descriptions by Frank White
Judas Priest are back, and on their 50 Heavy Metal Years North American tour with Queensryche as the opener. Both bands performed on March 30. 2022, at the Prudential Center in Newark, New Jersey.
Before Priest hit the stage, a giant metal structure of their symbolic cross rose straight up in a bright red glow with white lights beaming out into the New Jersey crowd. The band would then appear on stage with a background image of a building on fire to start the concert and their massive light show. 
Here are the songs that Judas Priest performed.....
One Shot at Glory
Lightning Strike
You've Got Another Thing Comin'
Freewheel Burning
Turbo Lover
Hell Patrol
The Sentinel
A Touch of Evil
Rocka Rolla
Victim of Changes
Desert Plains
Blood Red Skies
The Green Manalishi (with the Two-Pronged Crown )
Diamonds & Rust
Painkiller
   Encore:
Electric Eye
Hell Bent for Leather
Longtime guitarist Glenn Tipton comes out to perform with the band for the following songs to wrap up the concert:
Metal Gods
Breaking the Law
Living After Midnight
Queensryche are on their North American 2022 tour opening for Judas Priest. As the band came out onstage, they would perform in front of a stained glass cathedral background. 
Here is their set list from Queensryche's show:
Queen of the Reich
Warning
En Force
NM 156
Empire
Walk in the Shadows
The Whisper
Operation: Mindcrime
The Needle Lies
Take Hold of the Flame
Screaming in Digital
Eyes of a Stranger
To celebrate 50 years of Judas Priest, Goldmine Magazine has created a deluxe collector's bundle (shown above) for the Feb/Mar 2022 Issue featuring a hand-numbered slipcase including an alternate magazine cover — a classic shot of Judas Priest vocalist, Rob Halford — only available in this package. All cover photography by Robert Alford.
In addition, this bundle includes an 8x10" photo print EXCLUSIVE TO GOLDMINE of ROB HALFORD on his trademark motorcycle, exclusive from photographer Robert Alford.