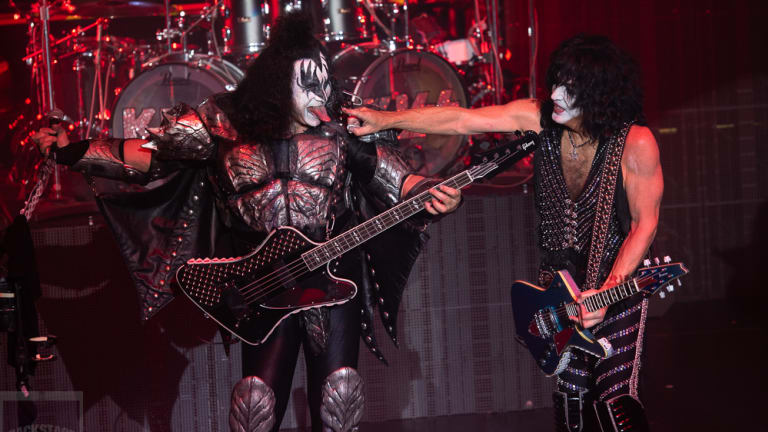 Kiss Kruise 2022 Summary: A cruise to success!
Jump on board a summary of this year's Kiss Kruise (aboard the second week of KISS Kruise 11), in words and photos.
Get KISS vinyl, CDs, box sets, collectibles and Goldmine-only exclusives in the Goldmine shop! 
Summary and photos by Gus Griesinger
While on the second week of KISS Kruise 11, we were grateful to be granted access to cover both indoor KISS shows. This would give the readers of Goldmine one last glimpse into the masked world of KISS on the seven seas. 
It was announced on the week prior that going forward, KISS will no longer perform in makeup on the boat after this Kruise. This was truly something to take in: After 11 years, the KISS indoor shows will be no more. So, for this review, we will only focus on these last two indoor shows. 
In the past, there has almost always been a small difference between the first and second show. This year the number of songs was the same for both shows (17). The order was slightly different between the first and second night, too, but both ended the same. The gems that haven't been heard in a while that were dusted off and played were "Love 'Em and Leave 'Em," "King of the Nightime World," "I Want You" and "Take Me." 
Night 1, the band sounded fresh and exciting. The vibe was good and band interaction was on point. Much didn't change between nights except Paul Stanley's voice on night 2 was a tad less powerful as it was on night 1. Also, the boat was a lot more 'rocking' on night 2 due to the inclement weather. Kudos to the band for playing it off without incident. 
Instruments were the only constant thing of change between tracks. The camaraderie remained strong throughout both shows. Both Stanley and Gene Simmons joked with each other throughout each night's set, and guitarist Tommy Thayer played off Stanley for a mini guitar dual towards the very end of "Cold Gin." And at the very end of the first show, drummer Eric Singer came out to hand KISS superfan Russell Dannecker his snare drum, as it was Dannecker's 400th KISS show. 400 shows!
Overall, the song selection was terrific. You had the hits, but KISS pacified the diehards with enough deep cuts to keep them happy. It was a good balance. Of course, if there were any complaints, one could argue that the set could have been a little longer. Other than that, KISS did a commendable job, tying a big bow on the indoor show portion of the KISS Kruise.
KISS Kruise set Week 2 (songs played):
Love 'Em and Leave 'Em
Detroit Rock City
King of the Nightime World
War Machine
Heavens on Fire
I Want You
She
Parasite
Makin' Love
I Love It Loud
Take Me
Cold Gin
C'mon and Love Me
Love Gun
Black Diamond
Shout It Out Loud
Rock and Roll All Nite