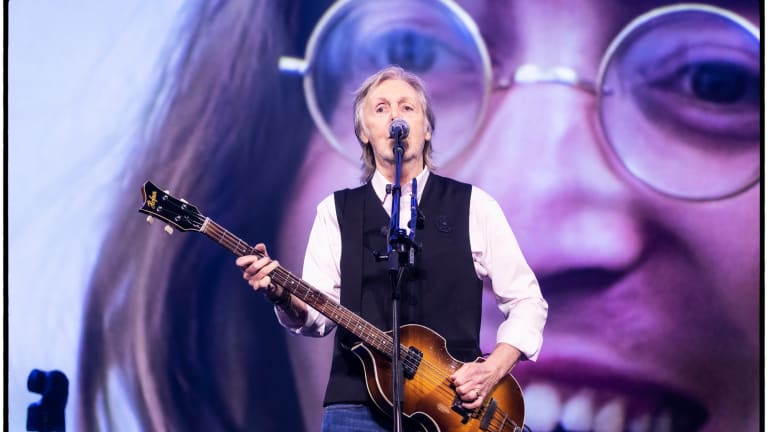 Paul McCartney kicks off first pandemic-era tour with eclectic career-spanning set
"It's really great to be back here playing music for you!" says an excited Paul McCartney to a crowd on May 2 and 3, in Seattle, Washington. The Got Back tour explores McCartney's vast catalog a bit more.
By Gillian G. Gaar
"It's really great to be back here playing music for you!" The relief in Paul McCartney's voice was obvious as he addressed a sellout crowd on the first night of his two-night stand in Seattle, Washington, on May 2 and 3. It had been a long time coming for a man who so loves to perform live. His last pre-pandemic arena show had been July 13, 2019 at Dodger Stadium in Los Angeles; then came a two year, nine month wait until his Got Back tour kicked off on April 28 in Spokane, Washington.
McCartney drew on a catalog spanning an astonishing 63 years, from his days with pre-Beatles band the Quarrymen to last year's McCartney III album. The first time he sang "Can't Buy Me Love" in Seattle was on August 21, 1964. Now, almost 60 years later, he opened his Got Back tour with the same song, at the same venue — then the Seattle Center Coliseum, now the recently refurbished Climate Pledge Arena.
The setlists for the Seattle shows were not too dissimilar to those from the 2019 tour legs. But there was a greater emphasis on breadth of McCartney's career; of the set's first 10 songs, seven of them were non-Beatles numbers. Still, there were surprisingly few from McCartney III, with only "Women and Wives" making an appearance, and then just on May 2; it was swapped for "Let 'Em In" on May 3. There were other tinkerings with the set over the two nights, with "I've Just Seen a Face" swapped for "We Can Work It Out," and "New" swapped with "Queenie Eye," perhaps a sign McCartney is still testing out songs to see which works best.
McCartney was pretty spry for a man about to turn 80 (on June 18). But his voice definitely showed signs of age, especially on the numbers that tax the upper register, like "Maybe I'm Amazed." Maybe some of that was due to breaking-in-the-new-show jitters; McCartney's vocals were noticeably stronger for the May 3 show, and he was relaxed enough to joke when he flubbed a line in "Here Today," his tribute to John Lennon. "Proves that it's live!" he told the crowd before picking up the number again, adding, "I know this song — I wrote it!" to appreciative applause.
He also wryly observed the lack of interest in his newer material, explaining that when the audience liked a song, people would be holding up their lit cell phones, whereas when he'd play a new number, "It's like a black hole out there." In response, the crowd duly held up their phones for "New" (on May 2) and "Queenie Eye" (May 3), to McCartney's delight: "We got lights for a new song!"
As the show is based around the strength of McCartney's impressive catalog, there aren't a lot of flashy special effects, but technological touches were evident throughout. McCartney's done "I've Got a Feeling" in concert before, but now footage from The Beatles' January 30, 1969 performance on the rooftop of their Apple HQ plays on the screen behind him as he sings it, meaning he can duet with Lennon on the number once again. "It blows my mind every time I see that," he observed at the song's conclusion. More footage from The Beatles: Get Back film was shown during "Get Back," making the song that much more joyful.
At one point, the rear screen projected a picture of a rural, two-story house, giving the impression feeling that group was performing "In Spite of All the Danger" and "Dance Tonight" at a casual backyard gathering. As McCartney played "Blackbird" solo on acoustic guitar, the part of the stage he was standing on began to rise, lifting him above the crowd, as the screens displayed pictures of a starlit sky and a dazzling full moon; "Here Today" was performed in the same setting. And that perennial crowd pleaser "Live and Let Die" was back in all its explosive glory; those close to the stage could certainly feel the heat.
McCartney's regular touring band — Paul "Wix" Wickens, Rusty Anderson, Brian Ray, Abe Laboriel, Jr. — was embellished by a three-piece horn section, the Hot City Horns (Mike Davis, Kenji Fenton, Paul Burton), who added some fresh snap to the sound. The band relished playing the bluesier numbers ("Letting Go" and "Let Me Roll It," complete with its "Foxy Lady" coda), as well as the "dueling guitars" segment of the "Golden Slumbers"/"You Never Give Me Your Money" "The End" medley, with the May 3 performances being especially strong. There was also a nod to recent events; when the band came out for the encore, McCartney was waving a Ukrainian national flag, while the other band members waved the Washington state flag, and the national flags of the U.S. and U.K.
It's likely that everyone in attendance heard at least one of their favorite McCartney songs, whether that was "Getting Better," "Band on the Run," or "My Valentine." But with the bulk of the songs also featured during the 2019 and 2018 tours, the setlist could do with a shakeup, and McCartney's in the fortunate position of having a wealth of material to choose from (it's surprising he's rarely performed so few songs from Tug of War, for example). But the adoring crowds at both shows were clearly thrilled to spend an evening with McCartney whatever he chose to play — and McCartney was equally pleased that his return was so warmly received.
May 2 setlist:
Can't Buy Me Love / Junior's Farm / Letting Go / Got to Get You Into My Life / Come On to Me / Let Me Roll It-Foxy Lady / Getting Better / Women and Wives / My Valentine / Nineteen Hundred and Eighty-Five / Maybe I'm Amazed / I've Just Seen a Face / In Spite of All the Danger / Love Me Do / Dance Tonight / Blackbird / Here Today / New / Lady Madonna / Fuh You / Being For the Benefit of Mr. Kite / Something / Ob-La-Di, Ob-La-Da / You Never Give Me Your Money-She Came in Through the Bathroom Window / Get Back / Band on the Run / Let It Be / Live and Let Die / Hey Jude
Encore: I've Got a Feeling / Birthday / Helter Skelter / Golden Slumbers-Carry That Weight-The End
May 3 setlist:
Setlist: Can't Buy Me Love / Junior's Farm / Letting Go / Got to Get You Into My Life / Come On to Me / Let Me Roll It-Foxy Lady / Getting Better / Let Em In / My Valentine / Nineteen Hundred and Eighty-Five / Maybe I'm Amazed/ We Can Work It Out / In Spite of All the Danger / Love Me Do / Dance Tonight / Blackbird / Here Today / Queenie Eye / Lady Madonna / Fuh You / Being for the Benefit of Mr Kite / Something / Ob-La-Di, Ob-La-Da / You Never Give Me Your Money - She Came in Through the Bathroom Window / Get Back / Band on the Run / Let It Be / Live and Let Die / Hey Jude
Encore: I've Got a Feeling / Birthday / Helter Skelter / Golden Slumbers-Carry That Weight-The End
RELATED CONTENT: An aural upgrade to Wings debut album 'Wild Life' a Grade A reason to revisit the record
For related items that you may enjoy in our Goldmine store: