Paul McCartney makes his live debut in Knoxville a night to remember
In the midst of his Got Back tour, Paul McCartney makes his live debut In Knoxville, Tennessee, an event to remember.

Paul McCartney, Thompson-Boling Arena, Knoxville Tennessee, May 31, 2022

By Lee Zimmerman
First, a disclaimer. I've been fortunate enough to see Paul McCartney on no less than six occasions, including the time I was able to to witness an hour and a half rehearsal just prior to the launch of his 2006 American tour in Miami.

So too, every time I've seen him, it's been an amazing experience.

We're talking about Paul McCartney after all, a living legend and in my mind, the closest thing the world had to a living deity.

Yet prior to seeing him last Tuesday night at the 20,000 seat Thompson-Boling Arena in Knoxville Tennessee, I was overcome by trepidation. It was a weird reaction, I admit. But then again, seeing an artist who has made such an indelible impression on one's life might have had something to do with that. Never mind that we were concerned about parking at the arena, the exact location of our tickets, my wife Alisa's photo credentials, and all the other attendant worries that accompany concerts these days. Seeing the man who ranks as my number one musical hero of all time had me not just a little bit awe-struck.

Then again, catching Paul McCartney live is, for most folks of a certain generation, the experience of a lifetime.


Granted, some people might consider such a statement an exaggeration that borders on pure hyperbole. But given the vast amount of people carrying signs and sporting Beatles T-shirts, your's truly wasn't the only individual caught up in the throes of sheer adoration.

Notably too, this was the first time McCartney ever performed in Knoxville, which, in a real sense, certainly contributed to the anticipation. So too, the two gentlemen sitting behind us and holding banners with photos of them meeting McCartney at the farm in Lebanon Tennessee, where he took a sojourn and recorded "Junior's Farm" way back in 1974, provided an interesting connection from past to present. Granted, Macca has performed "Junior's Farm" at every stop on the current Got Back tour, but at this particular juncture, the song was imbued with added importance.

Like he had at every earlier show on the tour, McCartney mentioned the fact that the fans really only wanted to hear those songs that form an indelible part of their shared memories, eschewing any need to anything completely current. He noted that when people hear their favorites, the cell phones light up — which was the case on the particularly poignant twosome, "Let It Be" and "Hey Jude," both of which featured McCartney on one of the two pianos he played that night. However, that was in contrast to the relatively restrained reaction to "Fuh You" and "My Valentine" (the latter dedicated to his wife Nancy who in attendance that night), two of the most recent additions to his classic catalog. Nevertheless, there was enough excitement generated by such familiar fare as "Can't Buy Me Love," "Get Back," "We Can Work It Out," "Maybe I'm Amazed," "For the Benefit of Mr. Kite," and all the rest to keep the excitement intact and decidedly over the top.


Of course, that would be expected, but it was also interesting to hear a handful of relative "obscurities," including the pre-Beatles Quarrymen song, "In Spite of All The Danger" — the only tune credited to both McCartney and George Harrison alone — and The Beatles's first single, "Love Me Do," which only managed to reach No. 17 on the charts at the time of its original release in 1962. A medley of "Let Me Roll It" and "Purple Haze" was also intriguing, offering opportunity for McCartney to share an anecdote about how when The Beatles released Sgt. Pepper's Lonely Hearts Club Band, Hendrix managed to offer up his own version of the title tune a mere two days later, especially impressing the Beatles themselves. 
Sir Paul McCartney at Thompson-Boling Arena, Knoxville, TN May 31, 2022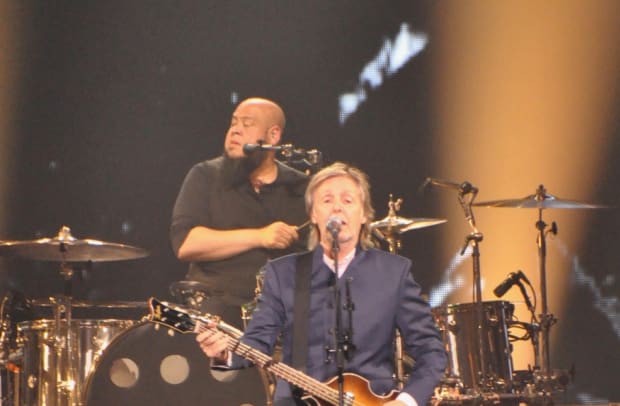 For a man who is rapidly approaching his 80th birthday, McCartney was not only surprisingly spry and youthful in his appearance (After he shed his vintage blue jacket for a vest and white shirt, he boldly announced that would be his only wardrobe change of the eventing), but nimble enough in his ability to switch from bass to guitar to keyboards, mandolin, and on his rendition of George Harrison's "Something," to the ukulele given to him by Harrison himself.


There were plenty of other reminders of McCartney's former colleagues as well, courtesy of a nonstop array of photos, collages, animation and even live clips from Peter Jackson's widely heralded Get Back documentary. It was all very nostalgic of course, but when a video performance on John Lennon performing "I've Got a Feeling" was synched in real time to allow McCartney to sing along with his late pal and partner, it seemed somewhat surreal to have the two harmonizing some 50-plus years after the actual fact.

Wings material was factored in as well, including a rendition of McCartney's James Bond opus "Live and Let Die," complete with explosives, bursts of flame and other startling special effects that would have shaken the audience from its stupor had such an effort been necessary.

Naturally it wasn't.


Of course it was McCartney's current colleagues and bandmates for past two decades — Paul "Wix" Wickens (McCartney's musical director for the past 33 years), Rusty Anderson, Brian Ray, Abe Laboriel, Jr. — who now bring those classics to fruition, and do it with all the finesse that's required when emulating a band like the Beatles. All are accomplished musicians, but its Laboriel that is the visual standout, not only due to his frenetic drumming style and spot-on backing vocals, but also due to his carefree mirth and mugging, as shared when offering faux dance steps on, what else, "Dance Tonight" and "ha ha ha's" in "Obla Di Obla Da." So too, the addition of the three piece horn section, the Hot City Horns, offered added embellishment as needed to "Letting Go," "Let Me Roll It" and of course, "Got To Get You Into My Life," while also sharing some synchronized choreography of their own. 

With a catalogue as broad as McCartney's one also tends to notice the songs that aren't included. "Yesterday" was an obvious omission, one the would have segued nicely with Macca's solo turn on "Blackbird," but it wasn't to be. Instead, McCartney's tribute to Lennon, "Here Today," a heartfelt homage that spelled out his love for his slain comrade, fulfilled the emotional quotient. Likewise, when the band returned for its encore proudly waving the Ukrainian national flag, the Tennessee state flag, the national flags of the U.S. and U.K., and most notably, the rainbow hues that symbolize the LGBT community, there was plenty of sentiment freely shared.

As if there hadn't been plenty already…