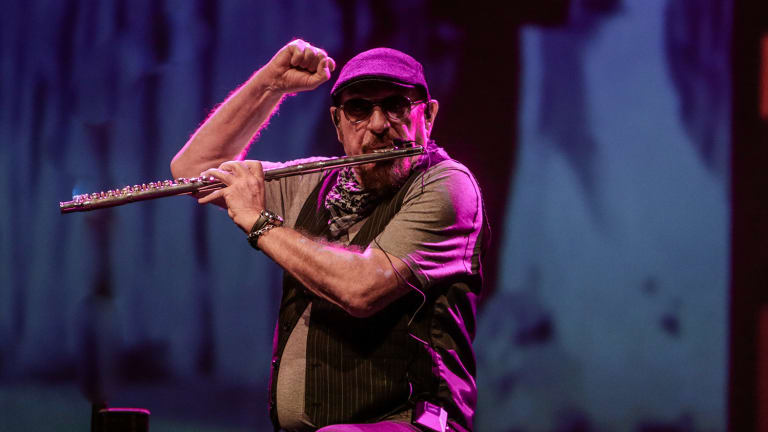 Top 10 albums of 2022 so far
From classic rock to classical; from Jethro Tull to Jeff Beck & Johnny Depp
Get vinyl from Jethro Tull, Jeff Beck and more at Goldmine's store.
This year's new music has been darn good so far — from Classic Rock to Classical — and we're only halfway through 2022! As we settle into the summer, we took a moment to look back on the best of the best of this year's albums so far. 
Below, read our picks for the Top 10 new albums released before the midway point of 2022.  
InsideOut Music (2-LP + CD)
This new release from Ian Anderson and Co. is getting plenty of attention for being the first new Jethro Tull album since 2003. But is it really? Anderson has put out projects under his own name such as Thick as a Brick 2 and Homo Erraticus that were Tull albums in all but name.
Still, the Tull name has power and evokes a legacy of classic albums such as Songs From the Wood, Heavy Horses, A Passion Play, the first Thick as a Brick, and of course, classic rock radio staple Aqualung. Few rock bands operating in the progressive/hard rock zone have been as prolific or consistent as Tull since its formation in 1967.
The new disc, armed with the provocative title The Zealot Gene, may not reach the heights of those iconic LPs, but it's certainly a strong entry that finds Anderson exploring new themes and styles while still delivering an authentic Jethro Tull experience.
Advance press materials for the LP focused on the biblical themes Anderson explores in the album's lyrics, but don't expect a religious lesson. Rather, these songs use some Bible characters and themes as launching points for Anderson's unique storytelling, with "good book" references to Shoshana, Jacob and Ephesus alongside tales of the "Sad City Sisters" and "Mrs. Tibbets."
The latter song kicks off the album with some feisty playing, including a midsong proggy interlude with complex timing. While the band may not display the fire of Tull's 1970s lineups, this group nimbly navigates Anderson's musical landscapes, and it sounds like Jethro Tull. "Mine Is the Mountain" shows this band can veer from darker, subdued tones to aggressive sections within the same song.
Not all tracks are full-band songs, however. Due to COVID restrictions, Anderson approached more recent recording sessions as a one-man band; stripped-back, acoustic songs such as "Jacob's Tales" and "Where Did Saturday Go?" flow well with the one featuring the entire group, however.
Anderson is in fine voice. He doesn't sing like the 20-something Anderson of Aqualung, but at 74, his more intimate, restrained vocals on pieces such as "Shoshana Sleeping" are quietly powerful and always compelling. His trademark flute playing is as potent and inventive as ever. (Has anyone ever made the flute as cool in a rock band as Ian Anderson? I think not.)
Production is crisp and simple. Anderson's voice is front and center, but the band instruments are well-balanced in the mix, indicating that these tracks are well-suited to the 5:1 mix available on the Blu-ray version.
As always, this album is not for everyone. If you are a fan of Tull's classic albums, you should enjoy this. Fueled by Anderson's sturdy melodies and clever lyrics, and performed by a worthy iteration of the Jethro Tull name, it's a fine addition to the band's catalog.
— Howard Whitman
Spinefarm (2-CD Digipak. LP)
Greatest album cover since Blackout and greatest Scorpions album since Blackout.
All that's left for debate is whether it's better than Animal Magnetism, Lovedrive or Taken by Force. Finally — finally — we get the fulfillment of the promise, and what's gorgeous about Rock Believer, it is on the band's own terms. What I mean by that, is Scorpions have delivered a swirling cauldron of songs stuck to the mandate conjured when lead guitarist Matthias Jabs first joined the band, offering slammer after slammer at mid-paced to upper heavy metal tempos, swollen with twin guitars being hooky, Euro (but not power metal), with chord sequences and even lyrics straight out of the Herman Rarebell playbook (written in crayon).
Amusingly, that's shoved right in our faces on the opener "Gas in the Tank," softening for "Roots in My Boots," but then fortunately fading as the guys get serious. And, boy, do I mean serious.
There are 15 tracks on here, with an extra acoustic version of the one — one! — ballad, "When You Know." That leaves fully 14 sort of mean/medium/average Animal Magnetism songs, with the guys playing to the one thing they are absolutely alone on this planet making, and that's an alchemically gorgeous upbeat type of melodic metal that plays up a rhythm guitar dialogue coupled with a European sensibility. No other way to describe it — only Scorpions do this, and they've done it three or four times on each of the last few records but dammit, yes, 14 times here.
That ethic of Beatles-level music-making carries over to the guitar solos, which are polished jewels, songs within songs, with these guys fully cognizant that guitarists are watching and nodding knowingly.
But among those 14 songs, there are delectable deviations, like the punky and casual "When Tomorrow Comes," an exquisite revisit to reggae called "Shining of Your Soul" and the stomping "Seventh Sun," reminiscent of "China White." My only complaint (among the insane giddiness) is that the guys have really, really given in to making Klaus Meine's singing job dead-easy for him — the guy doesn't have to break a sweat anywhere on here, crooning in his mature late-period range while everything is sober, precision metal all around him, bloody excellent metal, I must reiterate, and metal that track after track is perfectly accessible to anybody, with zero histrionics and only sturdy songs.
And did I mention that album cover? As soon as I saw it I fell in love with it. The retro red, the link to the sexy style of the past, even the sort of '70s — and earlier, krautrock! — look of the thing. Dschinn, Amon Düül II, Hairy Chapter, Tiger B. Smith, Night Sun, Lucifer's Friend… there's a spirit of excitement here that goes back to when those bands were competing with the Scorpions of Lonesome Crow. And again, that begins with the album cover and then right on through to these beautifully constructed songs of easy-drinking Teutonic metal.
— Martin Popoff
Sam Cooke, Spotlight on Sam Cooke: Movin' and Groovin'
Koko Mojo (CD)
As part of Koko Mojo's "Spotlight Series," Movin' and Groovin' with Sam Cooke keys in on tracks you don't own, rather than an assemblage of his hits which most already have. Smart! Thus, this Spotlight, segued chronologically, starts with two fiery gospel tracks by The Soul Stirrers which feature Cooke, barely out of his teens. 
Once he went secular, his Keen Records career in '58 came to an abrupt halt when he was cheated out his rightful royalties. The concept of "good trouble" was coined by the late hero congressman John Lewis and Cooke certainly was a good troublemaker. He never backed down. He signed with RCA, started writing his own songs, and became a star. 
Twenty of the album's 28 tracks are from this heady period of his career. He even covers Hank Ballard ("The Twist") and Big Joe Turner ("Shake Rattle & Roll"). In '61, he got powerful: producing, arranging, composing and starting his own damn label. This era is represented by the reformed Soul Stirrers, Johnny Taylor and The Falcons (with a young Wilson Pickett). 
Highlight has to be Cooke crooning majestically on Willie Dixon's blues classic "Little Red Rooster." What a rare find! 
—Mike Greenblatt
Opal Canyon, Tomorrow to the Sea
Mud Flower Music (CD)
Opal Canyon creates a sound with a shimmering sensibility, a feeling that transports its listeners to a time when Laurel Canyon was the center of the songwriting universe and euphoria was imbued in every sentiment and suggestion. 
Helmed by a husband and wife team consisting of singer and songwriter Debra DeMuth and her singer, guitarist and songwriting husband Dave Houghton, the duo merge dreams and desire, and leaves an indelible imprint in their wake. That's especially evident on their sophomore album, Tomorrow to the Sea, a set of songs that leaves doubt as to the duo's ability to share a euphoric encounter and a sense of eternal optimism besides. Their's is a celebratory sound, one tempered with careful consideration and a well-defined sense of purpose. 
While most of the material consists of their own original songs, a surprisingly upbeat cover of R.E.M.'s "(Don't Go Back to) Rockville" finds them expanding their template while still holding to idyllic imagery that's at the core of their creativity. 
A follow-up to their gilded debut, Beauty and Loss, Tomorrow to the Sea proves both sumptuous and sublime.
— Lee Zimmerman 
Jeff Beck and Johnny Depp, 18
Rhino Records (CD, LP)
I've never reviewed an album by Jeff Beck before, but that's not to say I haven't listened to every single piece of work he's ever put out. Without a doubt, Beck is one of the most accomplished guitarists that have ever lived. But thinking about reviewing one of his album had me in a quandary. How does one review something of his and not gush over it? The fact is that for me, writing anything about Jeff Beck is like writing about religion. Jeff is sacred! I started listening to 18 over and over and over. I then realized that Johnny Depp adds something where I thought it wasn't possible to add anything. The press release says that when Johnny and Jeff started collaborating, it made them feel like they were 18 years old again, hence the title, and that youthful enthusiasm is reflected on this album.
I have heard Depp play guitar with Jeff Beck prior to the album. I caught them together at Eric Clapton's Crossroads Festival in 2019. I am aware he is a real musician, not just some "Joe Hollywood" trying to be cool by hanging out with Keith Richards, Alice Cooper or Joe Perry. The man can play and sing — and yes, he adds something to 18that I haven't heard in a while, but have longed for in quite some time, a growling male voice and a nice crunchy guitar sound to offset the ethereal soaring and swooping of Jeff Beck's virtuosity. If you think of Johnny Depp as just an actor, you're wrong. Simply put, he brings his A game to this record and does improve on Jeff Beck's perfection! Now, I've started going back, watching and listening to Johnny's guitar work and I'm impressed. I know he once made a choice between acting and music, but thankfully he's now able to do both. It's great to see someone of a relatively younger age help to keep rock music going. I don't doubt that one day I'll be seeing him live with his own band at a major venue.
They got together to write and record 18 back in 2019, so the lyrical meaning of the track "Sad Motherf*****' Parade" (a Depp original) may not mean what immediately comes to mind. When Depp was writing "This Is a Song For Miss Hedy Lamarr," he had asked Beck to perform on the track, and Beck was so impressed with Depp's abilities, he asked him to record an album with him.
I'm actually very impressed with Depp's musicianship, not just anybody gets to record with Jeff Beck. When they first met in 2016, they formed a bond based on their mutual love for cars and music. Jeff stated, "When Johnny and I started playing together, it really ignited our youthful spirit and creativity. We would joke about how we felt 18 again, so that just became the album title, too."
Now, not that Jeff Beck can't voice a song with his guitar, quite the contrary. When he did "A Day In the Life" at Ronnie Scott's Jazz Club I could hear and feel John Lennon's voice. Beck has always had a unique ability to bring voices to an instrumental like nobody else. This album is no exception. When he does The Beach Boys' "Caroline No," The Miracles' "Ooo Baby Baby" and Marvin Gaye's "What's Going On," you can hear those voices conducted through his fingertips. There are some sublime vocals in these songs. They aren't completely instrumental, but when Jeff Beck plays a song, you've already got one vocal going on.
The track "Isolation" was actually Depp and Beck's first collaboration, released in 2020. If you're a fan of Jeff Beck, Johnny Depp, or just good old-fashioned rock music, then you want to grab a copy.
—Ivor Levene
Sea Power, Everything Was Forever 
Absolute/BFD/The Orchard (CD)
No longer sailing under any country's flag, the art-rock auteurs of Sea Power — formerly British Sea Power — are back out on maneuvers with the breathtaking Everything Was Forever, steering their dreamy vessel into the mystic of "Lakeland Echo" and crashing into waves of swirling, post-rock ecstasy, like those of "Folly" and "Green Goddess."
The navigation system is still in good working order, allowing for continued exploration of emotional, tension-and-release dynamics as they boldly soar like Muse and nostalgically brood like Elbow, just as they did upon arrival with 2003's The Decline of British Sea Power LP, their stormy and captivating debut. It was, by turns, atmospheric and raging, wistful and defiant. Cinematic in scope, with beautifully written lyrics, Everything Was Forever experiences similar sea changes, as the nervous energy and drive of "Transmitter," "Two Fingers" and a grandiose "Doppelganger" thrill and the graceful curves and elegant expansiveness of "Scaring the Sky" and "Fear Eats the Soul" leave witnesses with mouths agape. Enjoy the rapture.
— Peter Lindblad 
Wet Leg, Wet Leg
Domino Recording Co. (CD, LP)
Wet Leg are one of the leading lights of a new wave of British bands, a group that also includes Yard Act and The Mysterines, that are making headway in North America. Wet Leg's self-titled debut album is receiving many positive notices, and with good reason.
Wet Leg are a duo that hail from Isle of Wight, England and are comprised of vocalist/guitarist Rhian Teasdale and guitarist/vocalist Hester Chambers. Their debut single "Chaise Longue" went viral upon its release in June 2021. The success of the song surprised Teasdale and Chambers, as it had been the first tune that they had written and recorded as a duo. "Chaise Longue" is an off-kilter song that features Teasdale delivering some of the lyrics in a spoken-word monotone. It also includes some fun sexual innuendo. The song exploding out of the box the way that it did led some listeners to ponder whether or not Wet Leg would be a one-hit wonder. That question was put to rest with the release of their subsequent singles and this album. In fact, "Chaise Longue" isn't even the best song on the album. That honor goes to the spectacular rocker "Angelica." In addition, listeners of the album are surely pleased to discover that there are no throwaway tracks on it. All of the songs are worthwhile, and the album is a delight to listen to from start to finish. The lyrics are very frank and quite vivid, and in many cases, they echo how twentysomething people really talk. There is a very good chance that the album will be the breakout hit of the summer.
The opening track "Being In Love" is excellent guitar-based power pop with good vocals by Teasdale and Chambers. "Angelica" has something of a mid-1990s Britpop sound to it and a quiet/loud/quiet dynamic. They really rock out during the heavy bits. It features great guitar and perfect vocals. It's magnificent.
"I Don't Wanna Go Out" has standout vocals with quirky lyrics and some nice guitar work. It slows down a bit in the midsection for a somewhat dreamy effect and then picks up pace again. "Wet Dream" is another Britpop-like song, and its lyrics contain quite a bit of sexual innuendo. (Not surprising, given the title.) Teasdale and Chambers provide terrific vocals throughout, particularly in the chorus. And how can you not love a song that references the cult film Buffalo 66 in its lyrics?  
"Convincing" has Chambers doing the lead vocal. It's good guitar-based power pop and has the feel of Juliana Hatfield's best work. "Loving You" is a bass-heavy track with nice guitar work and a strong Teasdale vocal. There is some great vocal interplay between Teasdale and Chambers in the song's midsection. The electronica-sounding power pop of "Ur Mum" is outstanding. It's something of a bizarre song that even includes a prolonged scream, but it works. The off-kilter but rocking "Oh No" features some nice guitar work and stellar vocals from Teasdale and Chambers.
The hushed "Piece of Shit" is a chilled-out song with a sweet-sounding Teasdale vocal that drops quite a few F bombs. The blues/pop hybrid tune "Supermarket" is a chilled-out, spacey listen. Bass heavy at the start, album closer "Too Late Now" features echo-laden guitar and a nice Teasdale vocal. She does a spoken-word bit in the song's midsection. After that, it picks up pace for an alt-rock/power-pop vibe.
Wet Leg is a debut that goes from strength to strength, and it makes the listener greatly anticipate what will come next. Teasdale and Chambers will be touring in support of this album for a while. Here's hoping that they can find some time while on tour to work on their next batch of songs
— John Curley
Queen Kong, Fray
Independent (CD)
It's now on my Bucket List to see Queen Kong live. What joyous noise! Their self-released Fray may be rooted in Klezmer music, but this sextet — who play percussion, clarinet, trumpet, electronics, trombone, vocals, tuba, guitar, cello and violin — uses all of its collective experience playing Balkan punk, hip-hop, classical, reggae, trad-jazz and Brazilian psychedelic rock and roll to achieve a synthesis of avant-garde, progressive-pop, frantic folk, dance and fusion. 
Whew! 
One can work up a sweat just writing about it! Influenced by John Zorn's Masada, Hasidic New Wave and radical Jewish jazz, you can throw genre out the window here. I've already put it on my 2022 Top 10. 
— Mike Greenblatt
Max Richter, The New Four Seasons: Vivaldi Recomposed
Deutsche Grammophon (CD)
It's 10 years since Max Richter first "recomposed" Vivaldi's Four Seasons, dispensing with some three-quarters of the Italian composer's original work, but remaining breathtakingly true to the original piece.
Now he's at it again, but stripping it back even further by enlisting younger collaborators, older (period) instruments and a first generation Moog synthesizer. He chose well, too. He is joined here by the Chineke! Orchestra, the multi-racial British orchestra whose past repertoire reaches from a stunning vision of Dvorak's 9th, to an audacious reinterpretation of the Bob Marley canon.
The result, then, is true to his original recomposition, but rawer. Gut strings carve fresh patterns through the melodies and tones, yet even as we accustom ourselves to that, it is in the knowledge that these are the sounds Vivaldi would have known when he first conceived Four Seasons. In taking the music forward, Richter leads it backwards too, and the juxtaposition is delightful.
The synth, too, is a welcome (if constantly surprising) addition to the show. In the accompanying booklet, Richter praises the "wild and unpredictable" nature of the earliest synthesizers, comparing that to the precision and perfection that can be obtained with modern computers. The older model, he says, has personality, and he is correct. Its input is limited… Wendy Carlos, this isn't. But it's effective all the same.
In fact, the star of the show is Elena Urioste. It is her solo violin that truly dictates the course of the 13 movements; indeed, more so even than the albums for which she is so justly feted (Estrellita, From Brighton to Brooklyn), this might be the recording that truly reveals her genius. Away from the popular classics and Hollywood showstoppers, her passion feels almost improvisational, and one can only hope for further collaborations between Urioste and Richter.
Is this a replacement for the original Recomposed? No, any more than that was a replacement for Vivaldi's original work. But is it an essential addition to the CD shelf? Undoubtedly.
— Dave Thompson
Papadosio, Acoustic Live
Papadosio Inc 
Papadosio are a band that stands on their own within the world of "jam." That's in no small way impacted by the strong jazz influence that infuses their sound. The music they play has a commitment to precision in moments big and small. In both, there is almost a promise to be kept having at least one contributor bring forward a sound that is delicate and exacting. That usually occurs in "front and center" moments that deliver a weight that's equal; regardless of whether the musician is surrounded by a modest amount of music or a blizzard of jam. 
This is put on wonderful display with their new release Acoustic Live, an 11-track album captured during their 2022 four-night run at City Winery in Atlanta, GA and Nashville, TN. The LP features carefully curated selections from the series that were all performed in a rare acoustic construct, with fan favorites such as "Epiphany," "The Elephant I Presume," "Unparalyzer" and "Mr. Turtles Cloud Kingdom." Better yet, the magic starts right at the top with a shimmering 16-minute "Hippie Babysitter" opener that's just mesmerizing. Everything unfolds perfectly from there.
The band (Mike Healy and Rob McConnell on drums and bass, keyboardists/vocalists/multi-instrumentalists Sam Brouse and Billy Brouse, and guitarist/producer Anthony Thogmartin) have always been tirelessly committed to the road, and across their 16-year history they've delivered over 150 shows annually. That touring ethic has established a language between each member that drives remarkable chemistry and provides a utility that can make an acoustic take like this so stunning.
It's difficult to put a finger on whose contribution to this mix makes the most impact because everyone delivers so much on every song. The rhythm section never lets up and the guitar work is crystal clean and fluid. However, it might be Sam and Billy Brouse's keyboards that shine brightest on these tracks. At times they seem to channel the late Joe Sample (especially his work with The Crusaders) with runs that glitter and fills that are full-bodied and firm. They add sparkle to each track without being too slick or sappy.
Originally from Ohio, this band is now appropriately part of the creative jam band community of Asheville, North Carolina. What this record makes clear is that their commitment to recording original material has been an incredibly productive pursuit; made only better by the creative minds they've surrounded themselves with down south. Speaking of how that region has inspired their creative output Sam Brouse exclusively shared this with Goldmine:
"(2012's) T.E.T.IO.S is the first album I worked on with the band after joining in 2010. For me, it was a dream come true because I finally got to work with my favorite band and with the people whom I had looked up to for so long. We recorded it in an old Civil War era cabin in the smoky mountains outside of Asheville where we were living over the course of two years. We wanted to make something special and a lot of time, love, and passion went into putting it together. It's super surreal that 10 years later the music has made such an impact on people's lives and on our own as well."
The music on this live acoustic record is just as compelling; so much so that it begs for more. It's not clear what criteria were used to curate this collection of songs, but if the balance of the recorded material from these four nights resides anywhere within the realm of these 11 tracks it's time to start assembling a "Part Two" and considering a broader set of dates. This acoustic approach is that powerful. 
— Ray Chelstowski