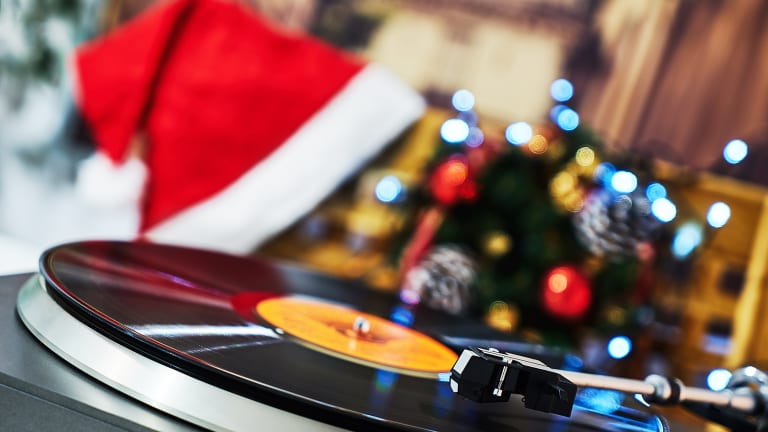 Top Christmas music releases for the 2020 holiday season
Goldmine compiled a shopping list of the best 2020 Christmas releases to bring out your holiday spirit.
By Gillian G. Gaar
We start with a vinyl bonanza, courtesy of Legacy Recordings, which is issuing a treasure trove of goodies. A must have is A Christmas Gift For You From Philles Records, featuring Darlene Love's "Christmas (Baby Please Come Home)," and other holiday classics put through the girl group blender by The Ronettes and The Crystals. In luscious mono of course. Elvis Presley's The Classic Christmas Compilation draws on the best of his two Christmas LPs, including "Blue Christmas," "Merry Christmas Baby" and the great non-LP single "If Every Day Was Like Christmas," among others.
Gene Autry's Rudolph the Red Nosed Reindeer and Other Christmas Classics has that signature holiday hit, and plenty of fun stuff like "The Night Before Christmas (In Texas, That Is)" and "I Wish My Mom Would Marry Santa Claus." There's lots of easy listening choices; compare the different takes of "White Christmas" as featured on Seasons Greetings from Perry Como, The Dean Martin Christmas Album, Andy Williams' Personal Christmas Collection and Merry Christmas by Johnny Mathis. 
Jazz more to your taste? Kenny G's Miracles: The Holiday Album has smooth instrumental versions of modern fare like "Silent Night," plus "The Chanukah Song" and "Brahms Lullaby." 
Or do it up country style. On Kenny Rogers & Dolly Parton's Once Upon a Christmas, they assure you "I Believe in Santa Claus," celebrate the holiday "With Bells On," and make it "A Christmas to Remember." Alabama's Christmas has their hit "Christmas In Dixie," with great harmonies on numbers like "A Candle in the Window" and "Joseph and Mary's Boy." Note that each album also includes a digital download
Reissues from the nice folks at Real Gone Music: if it's orchestral bliss you desire, your prayers will be answered on Seasons Greetings by the Fantastic Strings of Felix Slatkin. Slatkin was the house conductor/arranger at Liberty Records and made the sound even more lavish by recording the string sections separately; one for each channel (right and left). Even the Vatican gave this record the thumbs up! 
Cee Lo's Magic Moment was his first album to not receive a "Parental Advisory" sticker. It's on the upbeat side, as he jousts with the Muppets on "All I Need Is Love," duets with Christine Aguilera on "Baby, It's Cold Outside," and gets all festive with Rod Stewart and Trombone Shorty on "Merry Christmas, Baby." Available on green vinyl.
Dr. Seuss' The Grinch: Original Motion Picture Soundtrack finally gets a release (there was no soundtrack previously), an odd blend of rap (Run DMC, Tyler the Creator), the Brian Setzer Orchestra's "Run Rudolph Run," the Supremes' "My Favorite Things" and poor Nat King Cole's "The Christmas Song" sounding rather out of place. Available on colored vinyl exclusively from Urban Outfitters.
A Merry "Hee Haw" Christmas by Buck Owens (Omnivore Recordings) is mostly on the lively side, though there's a few weepers ("All I Want for Christmas is My Daddy," "It's Christmas Time for Everyone But Me"). The original album drew from Christmas Shopping and Christmas With Buck Owens and His Buckaroos; this CD features all songs from both albums.
Peggy Lee's Ultimate Christmas (Capitol/UMe) is a perfect choice for sophisticated holiday spirits. You get tracks from her 1960 Christmas album (like her jazzy take on "Jingle Bells"), two terrific duets with Bing Crosby ("Here Comes Santa Claus," "Little Jack Frost Get Lost"), a splendid rendition of "Winter Wonderland" and a beautiful wish for us all in the closing track "Here's to You."
Merry Christmas From Jackie Wilson (ORG Music) is another vinyl treat. Wilson's divine voice is perfect for traditional carols like "Silent Night," "The First Noel" and "O Holy Night," expressive songs that give him a chance to really shine. There's also a few new numbers ("Silver Bells," "I'll Be Home For Christmas"). Initially available at Barnes & Noble in black and red vinyl editions.
NOW That's What I Call Music R&B Christmas (Sony Music/UMe) adds some soul to your holiday. There are newer acts (Babyface, Boyz II Men), but the highest marks go to the greats: James Brown's "Please Come Home For Christmas," Otis Redding's "Merry Christmas Baby" and the Jackson 5's "I Saw Mommy Kissing Santa Claus." Also available on clear vinyl.
Indie duo The Bird and the Bee present Put Up the Lights (No Expectations/Release Me Records), a great mix of favorites and originals. There's a light jazz feel to much of the album; the sprightly "You and I At Christmas Time," the bright harmonies of "Sleigh Ride." There's a touch of nostalgia with "Christmas Time is Here," and "Little Drummer Boy" features none other than Dave Grohl on drums.
The Goo Goo Dolls get a bit melancholy on It's Christmas All Over (Warner Records). A song is the only present offered in "This Is Christmas," and singer/guitarist John Rzeznik withholds even coal in a stocking in "You Ain't Getting Nothin'." Happily, things are more upbeat on "Shake Hands With Santa Claus" and "The Christmas Party." Also available on red vinyl from googoodolls.warnerrecords.com.
From Craft Recordings: A Charlie Brown Christmas is full of classics by the Vince Guaraldi Trio: "Christmas Time Is Here," "O Tannenbaum," and, of course "Linus & Lucy." It's reissued in a variety of vinyl options, check vinceguaraldi.lnk.to/ACharlieBrownChristmas. 'Charles' Brown can be found on Charles Brown's Cool Christmas Blues, making its vinyl debut. It features new versions of his holiday classics "Merry Christmas Baby" (which he co-wrote) and his own "Please Come Home for Christmas," plus a swinging "Santa's Blues" and the optimistic "Bringing in a Brand New Year." There's also a colored vinyl release at craftrecordings.com 
The EP And So This Is Christmas (Mono Mundo Thirty Tigers) is the first Christmas recording by Cuban-born/Nashville-based group Sweet Lizzy Project. "This Christmas I'm Not Coming Home" is a melancholy look back at their native land, but things are more optimistic by the final track, "It's Christmas (Everything Will Be Alright)." The group is led by the powerful vocals of Lisset Diaz, and there's also a great cover of "Happy Christmas (War Is Over)" too.
Grant Lee Phillips' digital-only Yuletide EP (Yep Roc Records) features the touching "Winterglow" (as heard in Gilmore Girls), somewhat spooky covers of Nat King Cole's "Take Me Back to Toyland" and Frank Sinatra's "An Old-Fashioned Christmas," and an "Auld Lang Syne" with an updated verse wishing for better days.
Anne Murray's The Ultimate Christmas Collection (UMe/Universal Music Canada) is a selection of highlights from her six chart-topping Christmas albums. The mellow-voiced singer offers a mix of traditional carols ("Away in a Manger," "Silent Night") and newer fare, including great renditions of "Sweet Little Jesus Boy" and the Irish lilt of "Christmas in Killarney."
Keyboardist David Garfield has created a diverse offering, Holidays Outside the Box (Creatchy Records), encompassing five different languages, a reggae take on "Chanukah, Oh Chanukah" (Lee Oskar from War is heard on harmonica), the Polish carol "Jezus Malusieńki" ("Baby Jesus is Crying") in both a traditional and Afro-Cuban versions, and steel drum legend Robert Greenidge putting a delightful spin on "Sleigh Ride."
And finally, Ana Cristina Cash, wife of John Carter Cash, has released her version of the Hawaiian-themed song "Mele Kalikimaka," with husband John producing. The song choice was due to Cash's love of all things tropical, a Christmas song "inspired by bright colors, sunshine, and tropical vacations." Who could argue with that?