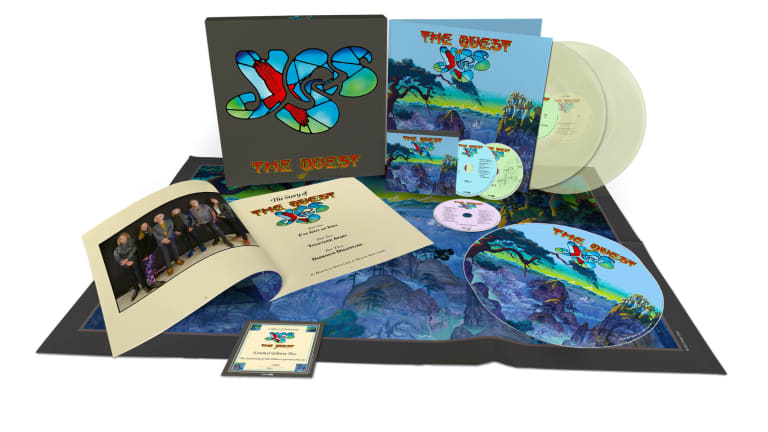 Yes — The Quest
For their first release of new music since 2014's "Heaven & Earth," Yes have forged a new sound with "The Quest," which hearkens to the band's classic style while forging new paths.
YES
InsideOut/Sony Music
(2-CD, Blu-ray, 2-LP)
3.5 Stars out of 5
For their first release of new music since 2014's Heaven & Earth, Yes have forged a new sound that hearkens to the band's classic style while forging new paths.
One significant change: this is the first Yes studio album to not include bassist Chris Squire, replaced here by Billy Sherwood. Vocalist Jon Davison, who made his debut on Heaven & Earth, returns on The Quest and played an integral part in the songwriting. The band is rounded out by drummer Alan White, keyboardist Geoff Downes and guitarist Steve Howe.
As its producer, Howe is clearly in the driving seat on this album. His guitar dominates throughout, and he shares lead vocals with Davison on some tracks. In fact, The Quest often recalls Howe's 2020 solo album, Love Is.
The album kicks off promisingly with "The Ice Bridge," which starts with a keyboard lick that evokes ELP's version of Aaron Copland's "Fanfare For The Common Man," but quickly diverges. Davison gets creative with the vocal melody, and sometimes it works well, but some parts feel awkward. Overall, it's a strong start.
Other highlights include "Leave Well Alone," which veers from a funky opening to an acoustic section and then picks up the pace. Davison evokes predecessor Jon Anderson's cosmic leanings in "The Western Edge," which also features strong vocals by Sherwood.
Throughout The Quest, the band sound together and solid. Howe's playing is as feisty and adventurous as ever. Sherwood's bass lines perfectly recall Squire's signature sound and style. White's drumming is rock-solid. Downes is not a flamboyant soloist and usually takes a backseat to Howe as he did on their work together with Asia. But his organ and synths nicely fill out the arrangements.
On The Quest, Yes play with more energy than they did on Heaven & Earth, which was criticized for its slow pacing and bland songwriting. That's a welcome change. The orchestral arrangements add a fullness to these songs, too. The mix is top-notch.
The Quest is a better album than its predecessor. The bonus tracks on disc 2 of the 2-CD version are somewhat weak, however; especially "Mystery Tour," which is a bit too on-the-nose with its lyrical homages to The Beatles.
But there's a lot to like here. The Quest is not cutting-edge Yes, and it doesn't top the band's 1970s classics. It's a different Yes, centered on Howe, but a likeable version in its own way. This album is not aggressive and forceful; it's pleasant and harmonious. Those displeased with its Anderson-less lineup will most likely not be convinced by this release, but listeners with open minds — and ears — will enjoy it.
— Howard Whitman